The Red Jumpsuit Apparatus Sheet Music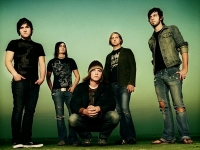 The Red Jumpsuit Apparatus is a pop punk/post-hardcore band that was originally formed in 2003 in Middleburg, Florida, about 30 miles south west of Jacksonville. The current members of the band are Ronnie Winter, the lead vocalist, Joey Westwood, bassist, Duke Kitchens, guitarist, and Jon Wilkes, drummer, all of whom do back-up vocals. In 2008 Elias Reidy has left the band.
What's in a name? Well, it depends who came up with it. In the case of Middleburg, Florida quintet The Red Jumpsuit Apparatus, it might mean anything. Jumpsuits can be sleek and fashionable, tight and revealing. Or they can be loose and homogeneous, suggesting redundancy and confinement befitting a jailbird. Red is often flashy and easily noticeable, but it's also the color of blood. And an apparatus allows a jumpsuit to be used for a specific purpose, such as leaping from an airplane - or it could be something sexual. After all, The Red Jumpsuit Apparatus are ballsy and emotional, pulsing with vibrancy and tenacity. They're strong, yet vulnerable, and they shift between musical styles with the confidence of superstars.
Strange then that The Red Jumpsuit Apparatus means…absolutely nothing. "It's 100 percent completely arbitrary," laughs singer Ronnie Winter. "When we started the band, we only cared about having a good time and writing good songs far more than coming up with some symbolic, incredibly intelligent name."
The Red Jumpsuit Apparatus - Your Guardian Angel Piano Sheet Music
Advertisement
Advertisement

Please right click on the download button and select "Save Target As" or "Save Link As" to download



You can share this sheet on your Twitter or Facebook account to let your friends know too!


(120.23KB)